Discontent in Seattle
One of the biggest stories circulating around the NFL right now is the fractious relationship between Russell Wilson and the Seattle Seahawks. Per leagues sources, Russell Wilson's relationship with the team has reached a breaking point, an argument stemming from Pete Carroll's insistence on utilizing a run-first offense and limiting Wilson's input on game planning. Perhaps mountains are being made out of mole hills; teammate KJ Wright insists that Wilson isn't going anywhere. Still, it's understandable why Wilson would feel this way. We got to see what the NFL landscape would look like if you "Let Russ Cook". Surely, for his own brand, Wilson would want to be in a position where he can run an offense designed around him and allow him to air things out.
🎙The rift between the Seahawks and Russell Wilson is reportedly driven by "power and control."

❓Is Pete Carroll to blame for Russ' frustration and the team's lack of SB's? Does Pete need to adjust?

📞 855-212-4227
📲 @JRSportBrief
📻 https://t.co/7Sd7okRXK1
📡 @SIRIUSXM 206 pic.twitter.com/1OarveEz2v

— CBS Sports Radio (@CBSSportsRadio) February 26, 2021
Following the Rumor Mill
As such, given Wilson's discontent, trade rumors have begun swirling and it's here that I want to make a point: the Philadelphia Eagles should not even consider going after Russell Wilson. I get it, there are a lot of arguments to be made for going out and acquiring Wilson. He'll make everyone else on the team better (after all, he did turn Paul Richardson into a 700+ yard receiver). Wilson has never posted a losing season since entering the league in 2012. He's a proven winner. My argument isn't one against Russell Wilson, however. Given the current state of the Philadelphia Eagles, it would be insane to sell the proverbial farm to acquire a QB entering his age thirty-three season in 2021 when the Philadelphia Eagles are nowhere near being legitimate postseason contenders.
It's hard to believe that this team was coming off a stretch of three consecutive postseason trips entering the 2020 season. In a league built on parity, the Philadelphia Eagles hold the distinction of being an absolute non-factor heading into 2021. Maybe not to the degree of the Baltimore Orioles in MLB, but the point stands: hampered by poor drafts, ill-advised free agent signings, and players failing to meet their potential, adding Russell Wilson to the mix simply won't solve the team's problems. The issues run much deeper than quarterback. In all likelihood, the team's weaknesses will only be further highlighted when Wilson struggles to perform in Philly on an offense that lacks explosive playmakers and relies on a cast of aging and injury prone offensive linemen. Simply put, it's not a recipe for success, regardless of who the quarterback is.
The #Eagles passing offense the last two weeks compared to the rest of the NFL:

236 yards per game – 20th
55.4% completion rate – 32nd
6.38 yards per attempt – 29th
3.0 sacks allowed per game – T-5th

Jalen Hurts has looked promising, but this is still a broken offensive scheme. pic.twitter.com/uliKUlQb64

— David Esser (@DavidEsser_) December 22, 2020
Comping Russell Wilson to Tom Brady
While listening to Philly sports radio, one of main talking points was how this situation was similar to that of Tom Brady joining the Tampa Bay Buccaneers as well as when Peyton Manning headed out west to the Denver Broncos. It's seemingly that simple. Add an elite quarterback and ride that wave to a Super Bowl title.
Bucs QBs coach: Tom Brady wanted to match what Peyton Manning did in Denverhttps://t.co/LwsY6FgcPO pic.twitter.com/Xfa687rfzD

— Around The NFL (@AroundTheNFL) February 27, 2021
The two situations couldn't be more different, however. The Tampa Bay Buccaneers featured a plethora of elite skill players that were being held back by the inconsistency of Jameis Winston. Sure, the yardage and touchdowns were there, but I think it was clear that the Buccaneers couldn't even scratch their full potential with the turnover prone Winston under center. Enter Tom Brady. By no means as physically gifted as Winston, Brady brought with him the past success, the professionalism, and an expectation of excellence that propelled the Bucs over the top.
The Reality of the Situation
What we have in Philly is nowhere near that, however. This team desperately needs an infusion of youth and hunger. One of the things that has been noticeably missing from Philadelphia since their Super Bowl win in that 2017 season was a hunger. A desire born out of being unproven and wanting to establish yourself as the league's top dog. That's what made that team special. They wanted to win. Remember the underdog masks and the language of that season?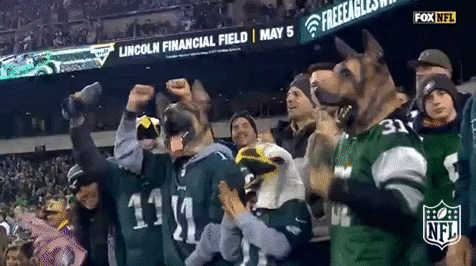 How can we recreate that atmosphere? How can we get players buying into going all out for the team again? It starts with youth. Look at what the Dolphins have done down in Miami. The Dolphins struggled for years to field a competitive team, lurking in the shadows of the New England Patriots in Foxborough. So, what did they do? They offloaded the talent they had in Laremy Tunsil and Minkah Fitzpatrick. They took advantage of teams like the Houston Texans and Pittsburgh Steelers who were looking at the here-and-now rather than forecasting for the future (really worked out well for the Texans, didn't it…).
Where did that get them? On the doorstep of being a yearly contender in the AFC. At this point, the Dolphins are a quarterback away from taking that next step. Going out and acquiring Russell Wilson or Deshaun Watson, that would make sense for a team like the Dolphins (and it makes sense that they are one of the teams purportedly in the running for Wilson's services).
Building a Future Without Russell Wilson
No, the Eagles need to sit tight, see how this season plays out, determine if Jalen Hurts is or isn't the guy, and use the draft picks they have to build up the foundations for a successful franchise. I get that acquiring a player of Russell Wilson's caliber is literally a one in a lifetime opportunity. The Eagles need talent across the board, though, be it on the offensive line, in the secondary, and at the linebacker position (not even mentioning the wide receiver position).
If I was to be an optimist (I usually am not), perhaps the Eagles find that their answer is already in house in Jalen Hurts. Granted, I think there is virtually zero chance he ever develops into a player of Russell Wilson's caliber, but think of it this way: he's cheap, he brings a unique skillset to the position (running quarterbacks truly create a mismatch on the field), and his contract will allow the Birds to build up the rest of their team around him. There is a conceivable way that we can make this work.
From everything I've seen and heard from people who I respect, Jalen Hurts has the physical, mental, and emotional attributes to be successful. I also believe Brian Johnson is the perfect quarterback coach to help him realize his potential.

— Merrill Reese (@mreeseeagles) February 21, 2021
Coming from Merrill Reese, we shouldn't take that compliment lightly. Perhaps in two to three years, we'll be in a similar position to the Miami Dolphins. Trading away our draft class for Russell Wilson will turn a 3-13 2021 season into a 4-12 season (5-11 at best). Will that be worth it when we could instead invest our draft capital into acquiring cheap, young talent? I don't think so.