Every team in the NBA is chasing one thing…An NBA Championship and a coveted ring. For more than a decade, the path to that accomplishment has basically gone through one man… Lebron James. There have been some outliers, but since 2007 Lebron James has only missed the playoffs one time and has appeared in the Finals ten times. So it's pretty much accepted that if you want to win a championship you're going to have to dethrone the King. Knowing this, I decided to break down the teams that have beaten Lebron James in the playoffs to identify there are any trends (spoiler: there are some) and build a template for what is needed to bring him down.
2007 Finals: San Antonio Spurs 
Many Lebron fans defend this Finals loss saying he shouldn't have even made it that year. The argument is that his supporting cast was so bad that the fact Lebron was able to even get there is a miracle in itself.  While that is a valid argument, it wouldn't be right to discredit the Spurs on what they were able to accomplish.
This Spurs team was very strong but it wasn't exactly a "super team." They had Tim Duncan who is probably the best power forward of all time, but he had more all-star appearances than the rest of the team combined. The guard combo of Tony Parker/Manu Ginobili was very good, and Bruce Bowen and Michael Finley were solid as role players too, but if you compared this team to today's NBA you probably wouldn't consider them a contender. Point is, the Spurs didn't win this series because of "star power."
The secret to the Spurs' success was that they played unselfish team basketball on the offensive side and elite defense on the other end. The scoring on the Spurs was very balanced, with Duncan averaging exactly 20 points, Parker averaging 18.6, and Ginobili averaging 16.5 per game. As a team they also shot very well, going for 38.1% from three point range. They were also incredibly deep, having 12 players appear in at least 50 games in the regular season. On the defensive side, the Spurs ranked second in defensive efficiency, and in the Finals, it showed. They were able to hold Lebron's Cavs under 100 points in all four games and in two of the games kept them under 80 points. A lot of credit has to go to Gregg Popovich, who is known to be one of the best coaches in the league. Under his leadership, the Spurs went on to sweep the series 4-0.
2008 Eastern Conference Finals: Boston Celtics
Everyone knows this Celtics team for the Big Three; Paul Pierce, Ray Allen, and Kevin Garnett. Unlike the Spurs, the Big Three are all Hall of Famers so bringing them together created the first modern "super team." That being said, this Celtics team did not have anyone average 20 points a game during the regular season. On any given night someone could go off for 30 points but, like the Spurs, they played very unselfish team basketball. A big aspect in that was the underrated play of Rajon Rondo. While Rondo was less well known at the time, he has built a reputation as one of the best facilitators in the NBA. In that role, he was a perfect complement to the strong scoring abilities of Pierce, Allen, and Garnett.
This Celtics team shot 38.1% from three and was very deep, with defensive specialists like Tony Allen and Kendrick Perkins coming off the bench. That was one of the main reasons they led the NBA in defensive efficiency, almost four points better than the next closest team. From top to bottom, they had an excellent balance of start power with role players and, similar to the Spurs, were led by an excellent coach, Doc Rivers. Lebron was still able to make this a series though, forcing a Game 7 before losing in what is probably my favorite basketball game of all time. Paul Pierce is my favorite player of all time, so watching him drop 41 probably has something to do with that.
2009 Eastern Conference Finals: Orlando Magic
I'll be honest, I completely forgot about this Magic team until I started writing this, it was a relatively forgettable roster. They were coached by another solid coach in Stan Van Gundy, but their biggest name was Dwight Howard. Granted, this was Howard in his prime (he averaged 20.6 points per game) but the supporting cast of Hedo Turkoglu, Rafer Alston, Rashard Lewis, and Jameer Nelson is a pretty solid list of "wow, remember that guy?" They were all good players (each averaged over 10 PPG) but if you looked at this team compared to today's NBA you'd again not take them as a contender.
The defense was the main reason for the Magic's success, as they quietly led the NBA in defensive efficiency (I'm starting to notice a trend here). They too were very deep, having 12 players average more than 12 minutes per game. Similar to the Spurs and Celtics, they played unselfishly on the offensive side and the craziest stat is they also shot exactly 38.1% from three on the season. I'm starting to feel like Jim Carey in the movie 23, except I'm writing 38.1% all over my walls.
Jokes aside, the Magic would go on to win this series in 6 games and further indicate that tough defense and unselfish offense is the formula to beating Lebron.
2010 Eastern Conference Finals: Boston Celtics
I won't spend too much time on this Celtics team because it was almost the same roster as in 2008. They brought the same formula, again led by the Big Three and Rajon Rondo, and were able to knock off Lebron for the second time in three years. I will note that this Celtics team only shot 34.8% from three, a significant drop from 38.1%, and only ranked 5th in defensive efficiency that year. These stats were good enough to take down the Cavs, but not quite good enough to get past Kobe Bryant and the Lakers. Off-topic, but here are Kobe's final three minutes in a Laker uniform, probably the most incredible thing I've ever seen on a basketball court. Heroes get remembered, but legends never die, RIP.
Now that we're all crying…
2011 Finals: Dallas Mavericks
In 2011 Lebron James brought his talents to South Beach, where he partnered with Dwayne Wade, Chris Bosh, and the rest of the Miami Heat. To this point, Lebron had never had much help, but in joining Miami he finally had a championship-caliber supporting cast. In year one with the Heat, Lebron was finally able to get past the Big Three in Boston. It was his time to finally get his first ring, but the Heat ran into a buzz saw…The Dallas Mavericks.
This series is widely regarded as one of the worst losses in Lebron's career because the Mavericks roster was old and didn't have anywhere near the firepower the Heat had. In taking a closer look, you'll find that the 2011 Mavericks are actually one of the most underrated teams in NBA history. People don't talk about it, or just don't know, but this Mavericks team made it rain from deep, especially in the finals. At the time, Dirk Nowitzki, Jason Kidd, Jason Terry, and Peja Stojakovic were all top ten in 3-pointers made all-time, and as a team, the Mavericks shot 36.5% from three for the season. That is very solid, but they blew that stat out of the water in the Finals.
In 6 games, the Mavericks went 51-124 from deep, good for an amazing 41.1% from beyond the arc. To put that in perspective, the Golden State Warriors are known as the best 3-point shooting team of all time and they didn't shoot over 39% in any of their four finals appearances. It wasn't just the names I mentioned either; in fact, Stojakovic barely played in the Finals. Guys like DeShawn Stevenson came up big, shooting 56.5% from deep, ultimately helping bring a title to Dallas.
Dirk Nowitzki was clearly the leader of this team, averaging 26 points per game in the finals, but this team again played unselfish team basketball. In four of the six Finals games, Dallas had four or more players score double digits. They also played great team defense, holding Miami, who averaged 102.1 points per game in the regular season, under 100 points in five of six Finals games. As I said, people sleep on this Mavericks team but they played absolutely incredible in this series to knock off Lebron and the Heat.
2012 Finals: Oklahoma City Thunder
I realize the Heat defeated the Thunder to get Lebron his first ring so I won't go too far into them. That being said, I do want to list this roster because it was pretty impressive. The Thunder's top eight were James Harden, Russell Westbrook, Kevin Durant, Serge Ibaka, Derek Fisher, Kendrick Perkins, Thabo Sefolosha, and Nick Collison. That's three MVPs, two All-NBA defensive players in Ibaka and Sefolosha, and six combined championship wins between Fisher and Perkins. All that talent but the series wasn't even close, the Heat won in five games. There's a lot of talk nowadays about the need for "star power" to win a championship. While that may be true, using this Thunder team as an example, you'll see that you can't just throw any three stars together. But I will get more into that in part two of this series…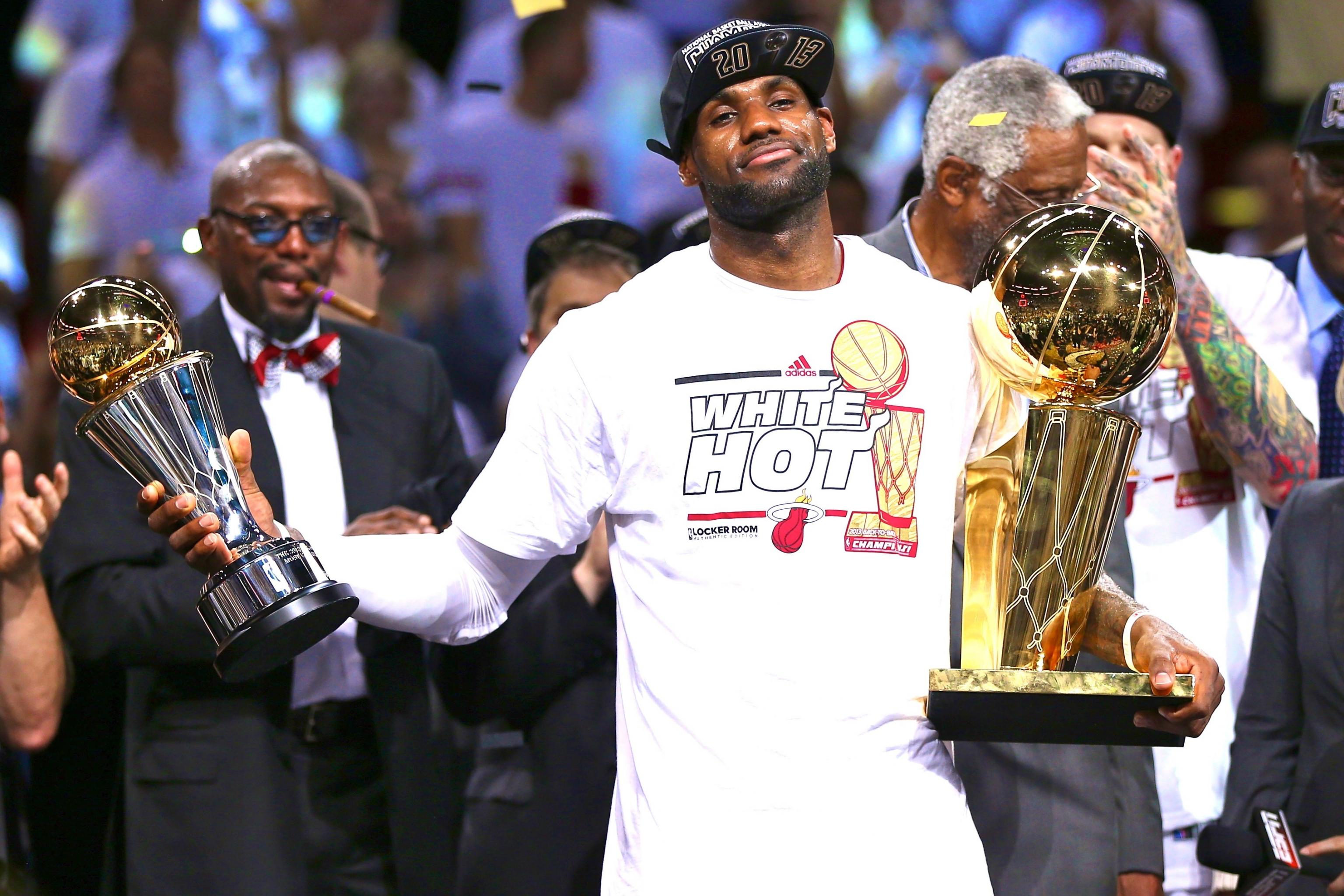 2014 Finals: San Antonio Spurs
This Spurs team was a few years older but they brought the same core they had in 2007. This time around they also had Kawhi Leonard, and while he wasn't quite the player he is today, he was still a great defender and solid scorer for this Spurs team. I don't think I need to break down them too much, they were still coached by Popovich so played a similar unselfish style, but here's a video of just how well they moved the ball in that Finals.
Pairing that with great defense and the fact that the Spurs shot 46.6% from three in the Finals, the Heat never really stood a chance.
2015 Finals: Golden State Warriors
In 2015, Lebron rejoined the Cavs and teamed up with fellow superstars Kyrie Irving and Kevin Love. Unfortunately when they met the Warriors in the Finals Love and Irving were hurt and Lebron was left pretty shorthanded. Many people know this Golden State team for their 3 point shooting, led by Steph Curry and Klay Thompson, but many don't realize that this team also led the league in defensive efficiency. Don't get me wrong, they absolutely shot the lights out, breaking records for 3-pointers made and shooting 39.8% from deep for the season. But in the Finals, they only shot 36% from three and 43.6% from the field.
It was really the defense that carried the Warriors, which is why Andre Iguodala, despite scoring 10 points less per game than Curry, would go on to win Finals MVP. Similar to all the other teams I have mentioned, this team played unselfishly, shot well from deep, and played great team defense. I know the Cavs were missing two of their top three players, but I personally think the Warriors were the better team regardless. These two clashed again in 2016, and had it not been for a historic, 3-1 lead collapse (aided by a Draymond Green suspension in Game 5), the Golden State Warriors would have repeated.
2017 Finals: Golden State Warriors
As I just mentioned, the Cavs pulled off a miraculous comeback against the Warriors in 2016, so in 2017 we were blessed with a rubber match when these two teams met for a third consecutive year. Unfortunately for the Cavs, this time around the Warriors had Kevin Durant. One of my favorite aspects of Durant's game is, despite being one of the greatest pure scorers in NBA history, he is incredibly unselfish. I know that's hard to say about a guy who averaged over 35 points per game in the finals, but Durant was more efficient with his shots than he was shooting in high volume. For the series, he shot 55.6% from the field, 47.4% from three, and 92.7% from the foul line (absolutely ridiculous). Simply put, this was an incredibly efficient performance by Durant, who was surrounded by two of the best shooters of all time in Curry and Thompson.
Despite all the offensive weapons, this team still very much relied on its defense, finishing second in the league in defensive efficiency. Lebron and the Cavs were completely outmatched, losing in 5 games despite Lebron and Kyrie both averaging about 30 points per game.
2018 Finals: Golden State Warriors
In 2018 Lebron and the Cavs met the Warriors for the fourth straight Finals. This time Lebron didn't have his sidekick, Kyrie Irving, and Curry, Durant, and Thompson all shot over 40% from three for the series. There's not much to analyze here, the Warriors absolutely dominated, sweeping the Cavs in four games. This is actually the most recent time Lebron has lost in the playoffs, in 2019 he joined the Lakers but poor chemistry and injuries kept him out of the playoffs. Then, this past season Lebron recruited Anthony Davis to the Lakers and the duo went on to beat the Miami Heat and capture Lebron's fourth championship.
Conclusion: The Template for Beating Lebron
Now that we've looked at all the teams to beat Lebron in the playoffs, let's summarize. You'll notice I talked a lot about defensive efficiency with these teams. Almost every team that has knocked Lebron out of the playoffs has ranked in the top two in defensive efficiency. There were a couple of outliers, the Mavericks ranked 7th in 2011 and the 2018 Warriors ranked 9th, but I think it's fair to say that if you want to beat Lebron you're gonna need to be an elite defensive team. Considering the Lakers themselves are currently ranked first in defensive efficiency, I would say that if you're not in the top five you probably don't stand a chance this year.
Then there was the trend of the team makeup. While some of the teams were star-studded, that wasn't exactly a critical factor. The real trend was that they all played unselfish, balanced, team basketball, with literally zero iso-ball players. I'll get more into "Iso Ball" in part 2 of this series but for now, all you need to know is, in order to beat Lebron James you need to move the ball and exploit the weaknesses of the rest of his team.
Even if you do all this it still may not be enough though, Lebron has the nickname "King James" for a reason. As I mentioned throughout the article, be sure to keep an eye out for part 2 of this series, coming in the next day or so. In that article, I will dive into the current NBA contenders and discuss which teams have the best chance to dethrone Lebron and the Lakers this season. Stay tuned!