When it comes to sports there will always be certain aspects that evolve over time, and the NFL is no exception. The way the game is being played now is a lot different from how it was being played 30, 20, and even 10 years ago. Offenses and defenses, while having many of the core principles and philosophies intact, have their fair share of variances that have developed over time. One of those variances has to do with the running backs being used as wide receivers.
The argument for several years now has been that the running back position in the NFL is devalued. The days of having one featured RB carry your ground game seem to be long gone, except when it comes to guys like Derrick Henry and Ezekiel Elliott. Why draft a running back early when you can find a capable one in the later rounds? What's the point of committing long-term to one RB and paying them a ton of money when you can just let them go after their rookie contracts are done and just draft another one? Why rely on having just one elite or great RB when you can have two or three good ones and be protected in case one of them gets hurt? There are so many arguments made now for why the position isn't that important anymore.
However, I'm one of the ones who beg to differ. Adamantly.
Players like Marshall Faulk, Brian Westbrook, and others were ahead of their time. Most running backs were carrying the ball 20-25 times a game while their contributions to the passing game went as far as pass blocking and catching shallow targets like screens and check-downs in the flat. Faulk and Westbrook, however, expanded their games beyond that. They lined up frequently at different spots of the formation as wide receivers and were running actual wide receiver routes. Their unique skillsets made them nightmares for defenses to defend.
Marshall Faulk was smart enough to adjust his route vs. pressure pic.twitter.com/HpS0J4SbTb

— Nate Tice (@Nate_Tice) September 13, 2020
Brian Westbrook was the ultimate jack of all trades. @36westbrook pic.twitter.com/dj3Kdf1ZT1

— NFL Throwback (@nflthrowback) August 6, 2020
Fast forward to today, and that trend is on the upswing, big time.
Christian McCaffrey, Alvin Kamara, and Kareem Hunt are some of the best running backs in the game today. All of them have shown the skillset of being used as a wide receiver as well as a runner. The versatility they possess is a big reason why they're considered by many to be elite talents.
Austin Ekeler, Nyheim Hines, Tarik Cohen, and James White have all found complementary roles in their respective offenses as runners and wide receivers. They may not be the main or central weapons of the offense, but they come up with big plays in key moments because of how much of a mismatch they can be in certain situations.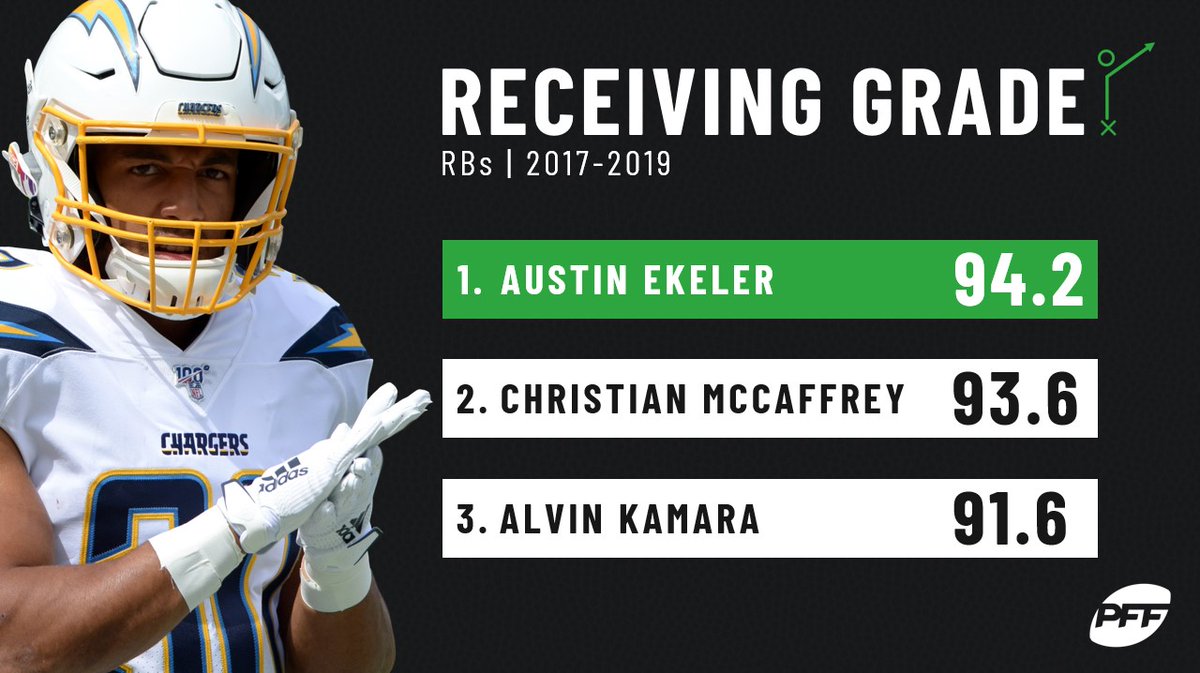 The Memphis Tigers seem to be manufacturing dual-threat running backs these days with Tony Pollard, Antonio Gibson, and Kenneth Gainwell all entering the league as highly touted receivers. Pollard has been seeing practice reps at WR at mini-camp for the Dallas Cowboys. Gibson was mainly a slot receiver in college before switching to RB for the Washington Football Team. He's expected to see an expanded role in the team's passing game as a receiver this season. Gainwell was the best receiving RB in this past draft class and is projected to fill in the "Nyheim Hines role" in the Philadelphia Eagles offense under new head coach Nick Sirianni.
The Jacksonville Jaguars and new head coach Urban Meyer made some headlines a couple of weeks ago when he announced that rookie RB Travis Etienne was getting practice reps exclusively at WR and none at RB. Many people thought it was a bad decision, but really, it's a smart decision. First, when it comes to rookie mini-camps, wide receivers get more out of their reps than running backs do because there's little contact allowed during drills. Also, Etienne was never used in that manner while at Clemson. All his receptions were shallow targets. That being said, he did show massive growth and development as a receiver year after year. Many scouts and coaches do believe that Etienne has the potential to be a Kamara-like type of weapon at the pro level. Therefore, if the Jaguars believe the same thing, then it's smart to have him start learning the nuances of the WR position now as opposed to later.
#Jaguars HC Urban Meyer says that all of Travis Etienne's training thus far as been at wide receiver, focusing at that position right now.

"Worst case scenario you have a running back that's elite with receiver skills," best case is a legitimate dual-threat.

— Demetrius Harvey (@Demetrius82) May 15, 2021
There will always be those who will see the running back position as devalued. If you're someone who continues to see these players as one-dimensional and refuses to think outside the box, then I guess that's expected. Make no mistake though, the RB position has evolved and continues to evolve. The way we see the position is changing for the better. If it's essential to have talent at the wide receiver position then the emphasis of having dual-threat running backs who can be used as both a runner and receiver is that much more vital to a team's success.