Prospect evaluation of North Carolina RB Javonte Williams for the 2021 NFL Draft, which includes his strengths, weaknesses, and projection.
Name: Javonte Williams
Position: RB
College: North Carolina
Height: 5'10"
Weight: 220 lbs
= Key Terms =
Grading Scale: Poor, Marginal, Adequate, Solid, Good, Great, Elite
Role: Developmental Player, Backup, Complementary Player, Starter, Franchise Player
= Strengths =
Great mental awareness; quick to process and react to defenders; makes the "heads up" play.
Great vision; patient behind LOS & waits for blocks to set up; understands leverage and angles.
Runs with short strides and choppy steps, especially behind LOS; possesses light feet.
Good burst and explosiveness getting from 1st to 2nd level; solid top-end speed.
Great power at POA; runs with forward shoulder lean and is hard to stop once he's going downhill.
Very strong and has an effective stiff-arm move; churns legs and pushes pile forward to finish runs.
Elite contact balance; absorbs high, mid, and low contact very well and sheds tackles at a high rate.
Good receiver; soft hands, catches smoothly; good route runner that gets separation vs LBs.
Great in pass protection, maybe even elite already; was asked to stay in & block a lot at UNC in 2020.
Identifies proper blitz pick-up assignments and attacks defenders head-on with physicality.
Good ball security; 4 fumbles in 416 career touches; only 1 in 2020 which shows improvement.
= Weaknesses =
Doesn't possess lateral explosion in his cuts; won't make defenders miss with elusiveness.
Needs several steps to gather momentum and throttle down.
Lacks a 2nd gear in the 2nd and 3rd levels of defense.
= Other =
Compact, stocky build with thick lower half.
Pro Comparison: Nick Chubb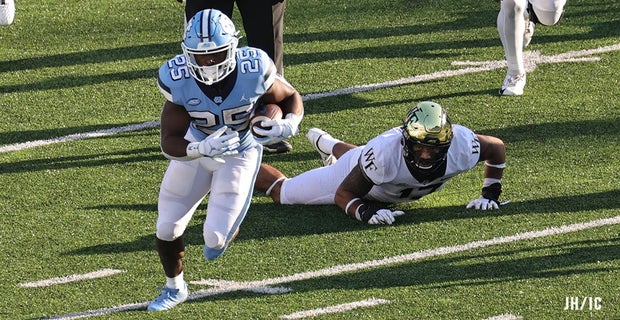 = Projection (Role & Fit) =
Javonte Williams projects as a Great featured/starting RB with possible Elite upside. He shows proficiency in both gap and zone schemes but he's at his best when running gap. He can carry a full workload of touches and be used as a runner, receiver, or pass blocker. He offers a well-rounded skill-set with few glaring weaknesses, making his floor relatively high. His calling card as a runner at the NFL level will be his ability to take and absorb contact at a high level and to create yards for himself. He has the requisite burst that makes him very difficult to bring down once he has a good amount of momentum going. His lack of lateral explosion shouldn't be an issue considering the other traits he brings to the table. Overall, Williams is a very polished RB prospect and it's possible he ends up being the best RB out of this year's draft class once it's all said and done.
Javonte Williams Draft Prospect Evaluation pic.twitter.com/bdIaos0OgU

— Charles "Chux" Maranan (@ChuxMaranan) March 8, 2021