With Opening Day less than two weeks away, teams have begun to whittle down their rosters to the 26-man limit. Hot-shot prospects are being sent back down for more seasoning in the minors and veterans signed to minor league deals are finding their ways on major league rosters (looking your way Brandon Kintzler and Tony Watson). In the American League, 2020 saw a changing of the old guard as teams like the Boston Red Sox and the Houston Astros limped their way through the shortened regular season. Meanwhile, the Chicago White Sox finally reaped the benefits of a lengthy youth movement (as did the Toronto Blue Jays). Will the same storylines play out in 2021 or will we see new headliners this season? Find out with some of my predictions for 2021 season in the American League.
AL East: Like their 2013 iteration, the 2021 Red Sox will go from worst to first in the division.
Perhaps more so than any other team in major league baseball (outside of the Washington Nationals), the 2020 Boston Red Sox saw their postseason aspirations derailed by injuries and underperformance, particularly in their starting rotation. Sans a healthy Chris Sale, the 2020 Red Sox lacked a true ace at the top of their rotation (a problem that was only exasperated by #2 starter Eduardo Rodriguez being sidelined for the season by complications from COVID). However, going into 2021, even without Chris Sale for the first few months of the season, the Sox will boast a significantly more competent starting staff to compete in a loaded AL East.
Boston Red Sox 2021 Season Preview: Nick Pivetta has locked down the fifth rotation spot – Over the Monster https://t.co/Uw8qRRTjJN

— JohnDalySports (@JohnDalySports) March 20, 2021
Headlined by a healthy Eduardo Rodriguez, the Sox will send out Nathan Eovaldi, Garrett Richards, Martin Perez, and Nick Pivetta on a weekly basis to take the bump. While it's a group that is full of potential, it's also one riddled with inconsistency and a degree of uncertainty. Philadelphia fans undoubtedly remember Nick Pivetta for his unfulfilled potential with their franchise. Will he finally put things together outside the confines of Citizens Bank Park? Can Garrett Richards stay healthy and effective over the course of a 162-game season? What should we expect from Eduardo Rodriguez after his being sidelined for a year?
Make no mistake, there are legitimate question marks in the rotation. Still, the same can be said of any team in the division. Are the New York Yankees really in a better position? Sure, Gerrit Cole represents the class of the division in the Bronx, but is rotational mate Corey Kluber any more of a sure thing than Garrett Richards at this point in his career? Ditto with the Toronto Blue Jays. Outside of Hyun Jin Ryu (who has only hit the 30 start mark once in his career), what is there to speak of besides the future potential of Nate Pearson? The Tampa Bay Rays jettisoned arguably one of the top-3 pitchers in their franchise history, saw Charlie Morton walk in free agency, and now are headlined by…Tyler Glasnow? Yeah…comparatively, as long as they maintain a semblance of health, the Sox rotation will serve adequately in the AL East.
The name of the game in Boston is offense, though. For a team that bid adieu to both Andrew Benitendi and Mookie Betts in back-to-back off-seasons, it's amazing that the Sox have assembled the type of offense that they have. Kiké Hernández might be the steal of the offseason. He'll provide the Sox with a legitimate leadoff option, something they've lacked since the departure of Mookie Betts. Marwin Gonzalez offers the team the versatility to slot in at a number of positions and produce at the plate. You still have one of the premier duos on the left side of your infield in Xander Bogaerts and Rafael Devers. If J.D. Martinez is able to bounce back to being somewhat close to what he was before 2020, this lineup has a chance to go from being really good to the kind that can carry the team to the postseason.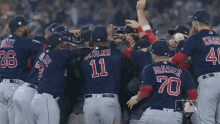 AL Central: The Cleveland Indians will find a way to eke out a divisional title in 2021.
Most baseball talking heads have the Chicago White Sox emerging as divisional champs in 2021 and for good reason. The hype behind the team is legitimate. The roster has pop (Jose Abreu, Yasmani Grandal, Eloy Jimenez), speed (Luis Robert, Yoan Moncada), fielding (Tim Anderson), grit (Adam Eaton), and a pitching staff that can go toe-to-toe with the best of them (headed by Lucas Giolito and Dallas Keuchel). That is to say nothing of the team acquiring the best closer on the market this past winter in Liam Hendricks. Top to bottom, this roster is about as well constructed as any that you'll find in the majors.
Still, since Terry Francona took over as manager in 2013, the Cleveland Indians have never finished a season below .500. The closest they've come to posting a losing season was in an injury-riddled 2015 season that saw them go 81-80. Under the guidance of Francona, the Indians have evolved into a franchise that knows how to win. I don't see that changing anytime soon.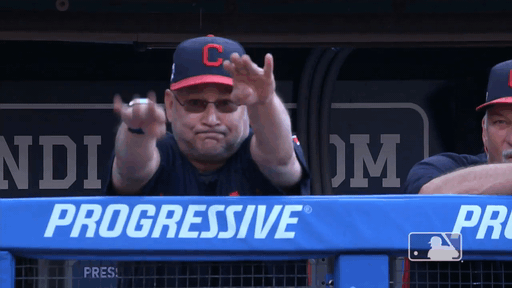 Will it be easy? Absolutely not. It's going to be an uphill fight within the division. Cleveland will have to overcome losing one of the game's premier talents in Francisco Lindor as rotational stalwart Carlos Carrasco (though, the sting of his departure will be lessened, to an extent, by his unfortunate hamstring injury this past week). What makes the Indians contenders? Well, it starts in their rotation with Shane Bieber and extends to the leadership and competitiveness of José Ramírez at third base. You can build around those two franchise players, which the Indians have done.
I'll leave you with this thought. Just think back to 2013 when Cleveland went 92-70 with a roster that granted significant at-bats to…Mark Reynolds? Nick Swisher? Jason Giambi?!? Man…sometimes we make chicken salad out of chicken shit, but if Tito can lead a team to 92 wins behind the shambling skin bag that was a forty-two-year-old Jason Giambi, I think he'll do just fine in 2021.
AL West: Move over, Houston…There's a new sheriff in town and his name is Mike Trout.
The Houston Astros have reigned supreme in the AL West over the past four years, winning three of the past four divisional crowns and topping 100 wins each season from 2017-2019. However, they're coming off a losing regular-season record and they'll have to cope with losing one of the game's most dynamic lead-off hitters in George Springer to free agency. Still, the Astros boast one of baseball's most explosive offenses in José Altuve, Carlos Correa, and Alex Bregman. That trio puts you in a position to win day-in and day-out. However, 2021 will have the city of Los Angeles flapping their arms like it's 1994 as the Angels will return to postseason play for the first time since 2014.
Akin to my prediction for the Boston Red Sox, my goodwill towards the Los Angeles Angels is due to their offensive firepower. The 1-2 punch of Mike Trout and Anthony Rendon is simply lethal. Rendon may have started the season a little slow, but he ultimately finished 10th in MVP voting. He displayed the batting eye, approach, and patience that makes him one of baseball's most effective two-strike hitters.
Shohei Ohtani will play third-fiddle to this duo and I have a feeling that we're finally going to see him pull things together in 2021 after a disappointing few seasons. Even with his injury history, he's still one of the game's most electric players. I mean, seriously…it's been three weeks and this ball still hasn't landed:
Shohei Ohtani just did a bad thing to this baseball. pic.twitter.com/X0RdsSafLt

— Jared Carrabis (@Jared_Carrabis) March 3, 2021
Granted, I've had this gut feeling before. I had it in 2016 when they landed Kole Calhoun from Arizona (they went 74-88 that year). That feeling struck again in 2018 when they originally added Ohtani (they finished 80-82). Is it possible that my sense of the Angels is maybe, just maybe, a little bit skewed? Ok…perhaps. But sometimes you just gotta call your shot and I'm calling it: see you in October, boys.