After what seemed like an eternity, the Trevor Bauer free agency saga has finally come to a close. After tantalizing numerous fanbases with the prospect of him joining their franchise with as much aplomb as only a master-troll can muster, Trevor Bauer agreed to a three-year/$102 million deal with the Los Angles Dodgers. With guaranteed salaries of $40 and $45 million in 2021 and 2022 respectively, the deal makes Bauer the highest-paid player in professional baseball.
For Better…
$102 million is a lot of money, particularly when it's condensed over three years. Is Bauer worth that sort of investment? Well, a glass half full approach would point out Bauer's 2.5 WAR in just eleven starts this past season. Granted, baseball is not a sport where performances occur on a linear scale. Over a full 162 game schedule, there are certainly ups-and-downs for any pitcher. Still, let's extrapolate what the outcome would be if Bauer maintained that level of production over a full season. The results? 7.5 wins above replacement. That's better than Justin Verlander's Cy Young season in 2019 (when he went 21-6 with 300 strikeouts in 223.0 innings). It's better than Tim Lincecum's Cy Young season of 2009 and Max Scherzer's award-winning season in 2017. Point being? Bauer was really friggin' good in 2020.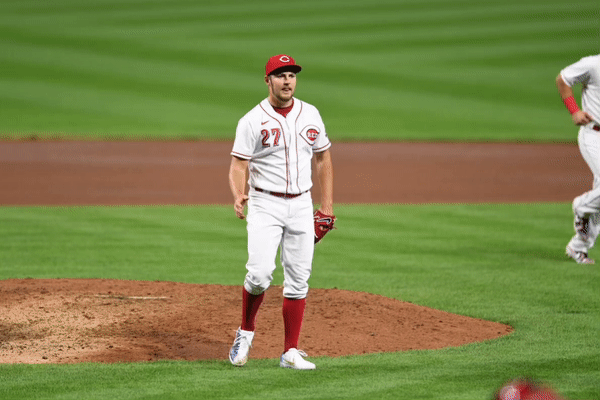 Even before the signing, the Dodgers were the favorites to win the World Series at +450. With the addition of Bauer, the Dodgers now hold a +350 betting line to repeat as World Series champions. There's a lot to like about what the Dodgers have put together over the past few years. Much in the same vein as the New York Yankees dynasty of the 1990s, the Dodgers have utilized the free agent and trade markets to supplement a farm system overflowing with talent. Just take a look at their starting rotation.
The Dodgers rotation is LOADED 🤯 pic.twitter.com/GIKNR2IGhL

— Bleacher Report (@BleacherReport) February 5, 2021
That's absurd! I'm not as high on David Price as others who tout his distinguished track record. Was he a great pitcher? Absolutely, but who knows what he has in the tank after struggling through injuries in 2019 and sitting out 2020. Maybe the rest will do him good, but that remains to be seen. Still, the projected rotation doesn't even factor in Dustin May who went 3-1 with a 2.57 ERA in a short 2020 season and showed off some of the most electric stuff in recent memory. Nor does it include Tony Gonsolin who has gone 6-4 with a 2.60 ERA across twenty big league appearances (14 starts). Even before signing Bauer, the Dodgers starting rotation was incredibly deep and represents one of the game's most blatant competitive advantages. Adding Trevor Bauer is akin to clicking in the Konami Code before a game of Contra. Unfair.
For Worse
I honestly think it's mind blowing that Trevor Bauer is now the highest paid player in baseball… sure he won the Cy Young in a 60 game season but the rest of his career is basically a 3rd or 4th starter in most rotations. So confused by the hype #NeedAnExplanation #overrated pic.twitter.com/Lz7OpghzVF

— Conner Halloran (@ConnerHalloran) February 5, 2021
Here's the thing: I'm just not sure Bauer is what we saw in 2020. Don't get me wrong, his 2020 season was impressive, but Bauer's best full season came in 2018 when he put up 5.8 WAR. Has he evolved as a pitcher since the early years of his career? For sure, but Fangraphs predicts that he'll be worth 3.8 WAR in 2021, much more in line with his career average. How does that stack up against the rest of the league? Historically speaking, 3.8 WAR is akin to a top-25 pitcher in the league. Think a 2019 Aaron Nola or a 2017 Dallas Keuchel. Great? Yes. Better than a #3 or #4 pitcher than the above-embedded tweet would suggest? Absolutely. But worth $40 million a year? Not a chance.
Baseball's economy has been out of whack for years, but $40 million per year is way too much for any pitcher. That sort of money is reserved for players like Mike Trout, Mookie Betts, or Bryce Harper. Guys who are capable of being a difference-maker on a daily basis, not once every round through the rotation. Especially not for guys who have career records of 75-64 with 3.90 careers ERAs. The track record of excellence just isn't there yet. There is virtually no way that Bauer can justify making that type of money in 2021 and 2022.
It isn't just about whether Trevor Bauer will be worth the investment, though. Where does the financial investment leave the Los Angeles Dodgers beyond the 2021 season? Granted, there isn't a salary cap in baseball. Should there be? That's debatable, just as it's debatable that perhaps there should be a salary floor to encourage competitiveness from teams like the Baltimore Orioles and Pittsburgh Pirates. Still, the competitive luxury tax was instituted back in 1997 to ensure that the league's most profitable teams didn't build too much of a personnel advantage. Has this deterred teams like the New York Yankees, Boston Red Sox, and our aforementioned Los Angeles Dodgers in the past? Not necessarily, but, as I said, the game's financial processes have changed.
Looking at the Class of 2022's free-agent class, how much will it cost to pursue players like Kris Bryant, Freddie Freeman, Javier Baez, or Carlos Correa (if their current teams don't extend them before then)? How much will it cost the Dodgers to retain players like Corey Seager, Clayton Kershaw, or Kenley Jansen (if they so choose to do so)? You can only stack so many $30+ million contracts on top of each other before your organization starts to implode on itself. The Dodgers seemingly have bottomless pockets to draw from to pay for premier talent, but is this business model sustainable? What if they miss on a few draft picks? What if some of their signings don't work out? The quality of depth in the Dodger's system can dissipate very quickly if so much as one of these things happens.
Inking Trevor Bauer to a deal with an AAV of $40 million over the next two years will impede the Dodger's ability to cash out on a 2022 free-agent market that holds historic potential and hamstring their ability to keep up with younger, cheaper teams that can invest in one or two mega-stars to supplement their cores.