Patrick Cantlay is currently the leader in the clubhouse, but the real story coming out of the Memorial Tournament this weekend has been the fans heckling of Bryson Dechambeau. If you don't follow golf, the long and short of this is that there is an ongoing feud between Bryson Dechambeau and Brooks Koepka that has carried into this weekend. The beef came to a pinnacle in the last few weeks when it was announced that DeChambeau would be partnered with Aaron Rodgers in the upcoming "The Match" against Phil Mickelson and Tom Brady.
@BKoepka It's nice to be living rent free in your head!

— Bryson DeChambeau (@b_dechambeau) May 26, 2021
Brooks took the first shot, Bryson quickly responded, and from there it has caused a frenzy on social media, including Barstool's Dave Portnoy requesting to have DeChambeau caddy for him when he plays Brooks (who will be playing left-handed) in a charity event later this year. I have seen rumors on Twitter that Bryson has accepted Dave's request but couldn't find a valid source to confirm.
Then, this video went viral last week…
Fast forward to this weekend, where Bryson Dechambeau is competing at the Memorial Tournament in Dublin, OH. Keopka is not even playing in the tournament, but many of his fans have been heard throughout the crowd, again taunting Bryson by calling him "Brooksy." This is seemingly a harmless jab, but being the headcase that he is, Dechambeau is not too happy about it. Reports coming out of Memorial are that any fans caught taunting him are being removed by police from the tournament! How soft can you be, Bryson?
The feud between Bryson DeChambeau and Brooks Koepka went to the next level on Friday, when fans were reportedly removed from the Memorial Tournament for heckling the reigning U.S. Open champion with his rival's nickname "Brooksy."​ https://t.co/OEazUx6N8I

— Reuters Sports (@ReutersSports) June 5, 2021
Honestly, I'm not that surprised. Bryson is notorious for overthing and trying to bend the rules to his advantage, like claiming an anthill was a "dangerous animal hole" to try to improve his lie on the 7th holes of at last years' WGC-FedEx St. Jude Invitational. So something petty like this is right up his alley. But what really caught my eye was an ESPN article quoting his response after the round.
"Oh, they weren't taunts at all, it was flattering," DeChambeau said after shooting even-par 72 in the second round. "I think it's absolutely flattering what they're doing. They can keep calling me that all day if they want to, I've got no issue with it. When you look at it, to most people it's they think it's a distraction, but I grew up learning how to deal with that stuff and I honestly thought it was flattering." -Bob Herig, ESPN Senior Writer
Bryson apparently went on to say that he doesn't care, that the officials are removing the fans, and he has nothing to do with it. Fans who are there say otherwise…
https://twitter.com/CooperLindhardt/status/1400858052488798208?s=20
Really Bryson, you think it's flattering? Did you forget that the internet exists? Did you forget about the viral video from LAST WEEK where you said "whoever's calling me Brooksy needs to get out of here?" What an absolute clown this guy is. I'm not one to dislike golfers but it's really hard to take this guy seriously.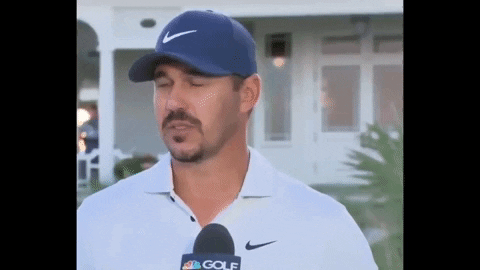 Brooks, who to reiterate, is not even at this tournament, again had the last laugh with an absolutely perfect response. I think it's pretty clear who's living rent-free in the other's head…Let's go Brooksy!
Capping off a long day with @MichelobULTRA! Thanks for all the support today. Also, we've got something for you… pic.twitter.com/kwtwXg3Kqb

— Brooks Koepka (@BKoepka) June 4, 2021