Howie Roseman: Making the Philadelphia Eagles…Entertaining Again?
Whelp. This is annoying. Once again, despite seemingly insurmountable odds, I'm finding myself cautiously optimistic about the Philadelphia Eagles going into the 2021 season. Damn you, Howie Roseman. How do you do this? How is it that, year after year, the Eagles are able to assemble quality free agent classes? I don't get it. It's not as if Howie has some third eye act that enables him to foresee value that nobody else sees (remember Danny Watkins?). We see his ineptitude on full display at the NFL Draft every year. Yet, be that as it may, Howie undeniably has a knack for bringing in talent through the free-agent market. To quote Harry Dunne (to an extent), Howie, just when I thought you couldn't possibly be any dumber, you go and do something like this…and totally redeem yourself (well, not totally… let's not get carried away).
Don't hear what I'm not going to say: this team has a lot of flaws and probably won't turn out much better than a 7-10 record at best. Still, this is going to be an entertaining 7-10 team and I'm cautiously looking forward to watching how this team matches up with the rest of the NFC East. In no particular order, here are five offseason moves that will set the Philadelphia Eagles up for success both in the near future and moving beyond the next few seasons.
1. Eric Wilson
Former Viking linebacker Eric Wilson will undoubtedly improve the Eagles linebacking corps in 2021. Philadelphia has been criminally negligent of the linebacker position for years now. Wilson profiles as being able to play both inside and coming off the edge; his unique skillset provides the Eagles with the type of second-level defensive playmaker they've been missing since…Mychal Kendricks? Jordan Hicks? Nigel Bradham? It's not the most impressive list, but Wilson should establish himself quickly as one of the best linebackers we've had suit up over the past five years or so. Seriously, though, when's the last time we had a linebacker capable of doing this?
A linebacker that make plays? I'm in on the Eric Wilson signing by the Eagles. pic.twitter.com/Xo96g8sDJp

— Joe Giglio (@JoeGiglioSports) April 7, 2021
2. Anthony Harris
In a relatively low-key signing back in March, the Philadelphia Eagles nabbed one of the best free-agent safeties of the offseason in Anthony Harris. Harris's career has been a bit of a slow burn; the undrafted free agent out of the University of Virginia didn't become a full-time starter until 2019, but he's been a solid contributor since then. Coming off a 2020 season that saw him collect 104 tackles and a 2019 season that saw him grade out as an elite-level safety, expect Harris to be the type of third-level presence that we've been missing since the departure of Malcolm Jenkins. I'm not saying he's going to have the long-term impact that Jenkins had, but he'll surely be a hell of a lot better than Jalen Mills or Marcus Epps was.
Anthony Harris: NFL's highest-graded safety in 2019pic.twitter.com/RcwWJMFDA8

— PFF (@PFF) May 19, 2020
3. Joe Flacco
Ok, hear me out on this one because my reasoning isn't so much about what Joe Flacco will do for the Eagles in 2021 (which is nothing), but what he represents. As the NFL offseason plodded on, I had grown increasingly nervous about how the Philadelphia Eagles were going to approach the NFL draft. While my preference would've been for a defensive player in the first round, I would've been fine with just about any position save one: quarterback. Howie's insistence that he wants the Eagles to be seen as a QB factory is an asinine statement on the face of it and deserves little discussion (if anything, Howie and Jeffrey Lurie have proven to be adept at breaking QBs more so than molding them).
After the Carson Wentz fiasco, I feared that Howie and company wouldn't be able to help themselves and they'd deprive Jalen Hurts of at least one season to prove himself as a competent NFL starter by drafting his heir apparent in the first round of the 2021 draft. The signing of Joe Flacco alleviated many of those fears, however. Did it completely shut the door on the Eagles drafting another quarterback? Maybe not necessarily, but it seemed to indicate that the team would be moving forward with Hurts under center as the presumed starter. Flacco isn't challenging for any starting jobs at this point in his career, despite Nick Sirianni's insistence otherwise. This will be Jalen Hurts' year to show what he is and Joe Flacco will be entrenched where he should be: on the sidelines, clipboard in hand.
4. DeSean Jackson
Despite owning one of the most iconic moments in Philadelphia sports history, the addition by subtraction of DeSean Jackson cannot be understated. Look, D-Jax is one of my favorite all-time Eagles (I know, that statement definitely dates me as a millennial), but he's at a point in his career where the commitment and attention he demands aren't justified by his on-field production. I hate to say it, but Jackson is a liability to have on your roster.
With D-Jax on the team in 2019 and 2020, an element of the team's playbook relied on him stretching the field. Unfortunately (but perhaps not unsurprisingly), he almost immediately got hurt and his absence hamstrung the team's ability to run an effective offense. Without D-Jax in the wide receiver room, players like DeVonta Smith and Jalen Reagor can now dominate the WR touches. We need to figure out what we have in Reagor and that wasn't going to happen if Jackson was still on this team. Jettisoning DeSean tugs at the sentimental heartstrings, but it's what is best for this franchise.
Still, never forget.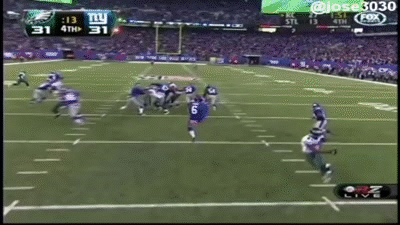 5. Landon Dickerson
While I am excited to see whether or not DeVonta Smith is able to successfully transition his game to the NFL, my other favorite move of the Eagles offseason is actually one that occurred in the draft and that was the second-round selection of Alabama lineman Landon Dickerson. Dickerson presents a bit of an enigma. He's remarkably talented; that much is undeniable. Just check out his highlights at the University of Alabama below:
That dude pushes the pile in a big way. With Jason Kelce likely nearing the end of his playing career (pause to wipe away a tear), the Eagles took the best available interior offensive lineman in Dickerson. The future is bright…provided that Dickerson can stay healthy. Unfortunately, that is a bit of a question mark at this point in his career. Dickerson saw four of his five collegiate seasons end prematurely due to injury. That type of history is legitimately concerning as he enters the NFL.
Still, Howie was, I can't believe I'm saying this, smart in taking a gamble on the talented offensive lineman. Perhaps a year behind Jason Kelce will do Dickerson good, allowing him time to heal and mature as an athlete. Provided he can stay healthy and perform up to expectations, this move could be one that defines the Philadelphia Eagles' run game for years to come.
Conclusion: Prognosis Positive for the Philadelphia Eagles
Despite recent history, I'm excited to see how these offseason acquisitions gel with what the Eagles already have in place. Will this be a rebuilding year? Sure, but these types of moves will put us in a position to be much more competitive sooner than later. The defense is undeniably better now than it was going into last season (happy trails, Nate Gerry). The offense is…intriguing. I'm not sure what it will be, but there's a lot of talent there. This is gross to say, but well done, Howie. You've earned a pass for now (until the next screw up you make which should be in…three to four days). For now, take my begrudging fist bump and scamper off.
Eagles senior scout Tom Donahoe had an interesting interaction with Howie Roseman after drafting Milton Williams.#NFLDraft pic.twitter.com/Voga3EzCVa

— Sporting News (@sportingnews) May 1, 2021